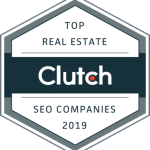 As a business, how do you plan on creating your brand and making it more recognizable and popular? Sure, you can find employees inhouse who can create a marketing strategy for your company and try and grow your business that way. But why waste the time and resources with a nonprofessional marketer?
With Egochi, you don't need to waste time trying to find a company that can effectively market your business online. At Egochi, we create interactive business websites for customers and promote them through on-page SEO/off-page SEO and other digital marketing strategies. Given our leadership in this field, we are honored to be named one of the top real estate SEO companies by Clutch, check out the full list here.
TALK TO US
REAL ESTATE SEO EXPERT
Clutch is a B2B ratings and reviews website that conducts extensive research on various businesses through finding relevant market data. Clutch has become a widely credible resource through its effort to conduct interviews with past clients of B2B providers. These interviews become reliable reviews from primary sources, such as the example below.
In addition to our recognition on Clutch, we are also honored to be recognized on Clutch's sister website, The Manifest, where we are listed as one of the top SEO firms for small businesses. Furthermore, a digital portfolio sharing website, Visual Objects, highlighted Egochi as one of the world's top SEO agencies.
"We at Egochi are honored to receive this award. We're glad that Clutch notices our work and rewards us for it." – Jobin John, Founder & Director at Egochi.
At Egochi, we are beyond appreciative of this recognition of all of our hard work. We do extensive research to make sure that we satisfy our clients with the best SEO for their product and don't stop until that goal is met. If you have any questions about our company and want to find out more information about Egochi, feel free to contact us and we will be happy to answer any and all questions!