Backlinks are important in order to achieve a good Google ranking, in fact, it's one of the top 3 factors.
The first two being quality content & on-page SEO.
Once you have added good quality content to your website and then structured your website correctly the next step would be to get high-quality content.
Why are backlinks important?
The simple answer to that would be "It boosts your websites SERP".
but you need to ensure you do not buy backlinks or get spammy backlinks as that would penalize your website.
So, you may now have a good strategy to build backlinks like Guest Blogging or article submissions or even some magical strategy but how many backlinks can you create in 24 hours?
or
How Many Backlinks Per Day Is Safe?
or even,
how many backlinks is it wise to add every month?
this takes me to,
How many backlinks should I have to create in one day?
Experts would say the limit of how many backlinks you can create in one day is the vector between valid, earned links and spam links.
If you truly earn links, the limit is infinite.
but if you buy links through spam tactics, the limit is "however many it takes for Google to penalize you".
Here is a live case study:
Elon Musk earned about 11000 links in a couple of days to the URL for his flamethrower. That would be seen as legit as there is a perfectly legitimate reason for it. If you build that many to a site and there is no reason, you are very likely getting penalized at some point.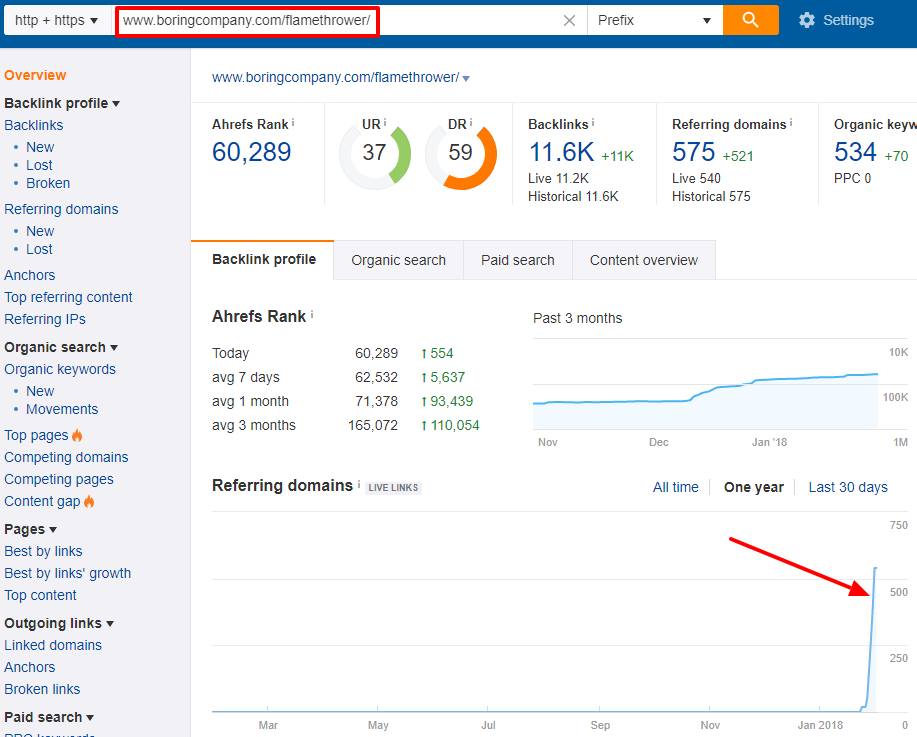 News items and some POPULAR news items do get several backlinks in a day – and if an international news item broke then hundreds/thousands of backlinks could occur naturally.
Also, please stop looking for magic bullets like the max number of links you can build, min length a piece of content has to be, how many times you can mention a keyword… Google has moved WAY beyond such simplistic calculations and the answer is always going to be "it depends", "does it make sense?", etc.
Here is food for brain,
So if news comes out that a business just offered their mattress stores for displaced families to stay at until disaster recovery could begin, I could end up having a ton of links and citations to my site…
That happened to the owner of a chain of mattress stores in the floods down south last year.
In my experience (yours may vary), proper Public Relations, newsworthiness, or outstandingly strong educational, or entertaining, or otherwise controversial or interesting content creation on site, can often result in many links in a very short period. All valid.
I think it really comes down to how and why, and from what places, links get created.
Conclusion,
You can get as many backlinks as you want as long as they all are legit however if they are not then don't do it because you will be caught and all that work that you put into your website will be wasted.
Google is smart and gets smarted every day so don't try to stick it to them and you will be just fine.
Good Luck.