Scroll Down to see our SEO Portfolio but read on for perfection
What is an SEO portfolio? SEO is vital for business growth and to build an
online reputation, however, hiring a good SEO company can be challenging. You need to ensure that the SEO company portfolio is impressive and more importantly genuine.
Why is an SEO portfolio important? As per my experience, there are a lot of companies faking their SEO portfolio by showing anonymous rankings on search engines and claiming they are the ones behind it.
How do I verify an SEO portfolio? The best way to check an SEO portfolio is to call the companies and ask them itself, the only downside with that would be the hardship of reaching the right person and getting them to speak to you.
How to select a legitimate SEO company? Personally, I would always go for the see it for yourself technique, example if I want a nice suit I would go to a tailor with the most dashing suits in the window similarly I would select an SEO company by checking their own rankings.
Hear me out,
If an SEO company is as good as it claims to then simply ask them for their own ranking keywords on Google, then cross-check on those keywords using Google Keyword Planner or the simple Google Search.
Watch the video presentation of our SEO Company Portfolio
Now that you have seen the video, I think now you would have a clear understanding of how a good SEO company portfolio looks like, don't tell me you were looking for some shady .pdf or some text because those days are gone everything is easy convenient and fast. I hope you are now ready to hire the best SEO experts for your business.
Checking...
Ouch! There was a server error.
Retry »
Sending message...
Just in case you did not see the SEO Portfolio Video
Here are screenshots of our current ranking in order for you make the right move and hire SEO experts for your business. Top SEO experts are individuals who are technically skilled on Google algorithms and understand the world wide web. My team is regularly learning, experimenting and growing their skills as the internet marketing industry never stands still.
Evolution is the major key to be a top SEO company and thus we have our portfolio for SEO based on the same.
We rank in the biggest city in Wisconsin, the keywords we rank are "Milwaukee SEO" "Milwaukee SEO Agency" "Milwaukee SEO Expert". You can search it yourself on Google.
more ranking screenshots,
We also rank high in the second biggest city of Wisconsin, you can also check our ranking for keywords "Madison SEO Agency" and "Madison SEO Expert", "Madison SEO".
There are more keywords that you can search such as "Sun Prairie SEO" & "Kenosha SEO Agency", "Waunakee SEO".
There are 20-30 more general and local keywords that we rank online, however, I hope I was able to prove the point.
If we can rank our own website on these highly competitive keywords then surely we can do it for you as well. With that said join us and connect with us.
Download & view our full SEO Proposal
SEO Company Portfolio Reviews
How to judge an SEO Company portfolio? I mean when you look at an SEO proposal sent to you how do you really find out if it's legit?
The answer to this question would be to look for the SEO companies rankings and reviews left by customers. These are the 2 major things for any service provider such as an SEO agency.
A good review on aggregator sites like Google, Facebook, Yelp is what makes a strong SEO portfolio, with that said here are some awesome reviews left by our customers.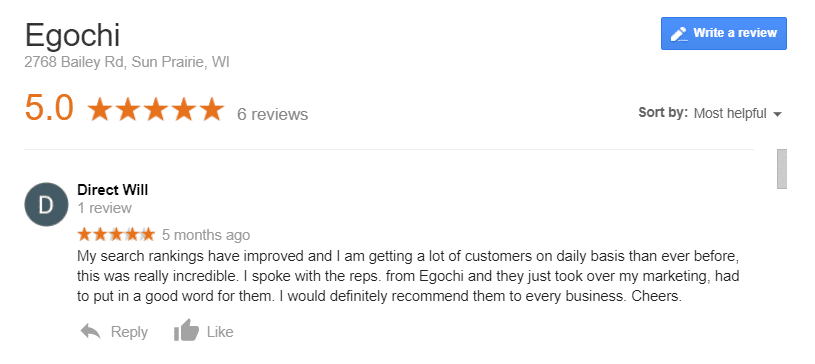 Summary
Reviewer
Review Date
Reviewed Item
Author Rating