In an era where the internet reigns supreme, Online Reputation Management (ORM) stands as a sentinel, safeguarding the digital identity of individuals and businesses alike. ORM involves a spectrum of strategies and practices aimed at shaping public perception through the management of online content. Whether it's a Google search, a tweet, or a customer review, every digital touchpoint contributes to your online reputation.
The significance of ORM is not to be underestimated. According to a survey, 87% of consumers read online reviews for local businesses in 2021, up from 81% in 2019. This trend shows no signs of stopping. Another staggering statistic from the same survey reveals that 73% of consumers only pay attention to reviews written within the last month.
What is Online Reputation Management?
Online Reputation Management, often abbreviated as ORM, is the process of influencing and controlling an individual's or organization's reputation on the internet. It's the strategic art and science of curating how a brand, company, or person is perceived online.
With the proliferation of social media, review websites, blogs, and other digital platforms, ORM has become indispensable in today's interconnected world.
Here are the key components that usually fall under ORM:
Monitoring: Keeping a vigilant eye on what is being said or written about the brand or individual online. This involves tracking mentions, reviews, and any content that might affect their reputation.
Positive Content Creation and Promotion: Developing and disseminating positive content to build a favorable online image. This can include blog posts, press releases, social media updates, and other forms of content.
Review and Feedback Management: Actively managing customer reviews and feedback across various platforms. This entails promoting positive reviews and addressing negative feedback constructively.
Social Media Management: Handling social media profiles to ensure a positive presence. This includes engaging with the audience, sharing relevant content, and monitoring social media mentions.
Search Engine Optimization (SEO): Using SEO techniques to ensure that positive content and feedback are more visible in search engine results, while negative content is less prominent.
Crisis Management: Preparing for and addressing any negative incidents or publicity that could harm the online reputation. This involves having strategies and protocols in place to mitigate damage.
Personal Branding: For individuals, ORM includes creating a personal brand that showcases their strengths and achievements in a positive light.
ORM is pivotal in establishing trust and credibility with an audience. It affects customer decisions, investor relations, partnerships, and even personal opportunities for individuals. In a digital landscape where opinions can go viral in minutes, Online Reputation Management is the safeguard that helps maintain a positive image and brand identity online.
Online Reputation Management Services
Egochi's Online Reputation Management suite is a mosaic of finely tailored digital marketing services, aimed at reinforcing your brand's digital eminence. Here's an overview of the comprehensive services that Egochi brings to the table:
Why Egochi is the Best Choice for ORM Services
In the swirling currents of the digital realm, Egochi's Online Reputation Management services emerge as a lighthouse guiding your brand to safe and prosperous shores.
Here are the monumental benefits and unique propositions that render Egochi an unmatched ally in your ORM endeavors:
Online Reputation Management Case Studies
Delve into the captivating chronicles of Egochi's clients, whose digital landscapes have been revolutionized through our strategic ingenuity. Our case studies and testimonials are a testament to the transformative power of Egochi's Online Reputation Management services.
Rejuvenating a Health and Wellness Brand
Background:
'Nature's Embrace', a burgeoning health and wellness brand, found itself grappling with a slew of negative reviews that overshadowed its virtues. The brand sought Egochi's expertise to revive its digital presence.
Strategy:
Egochi launched a multi-pronged ORM campaign. We established a vigorous review response system, curated health-centric content, and engaged with customers through social media.
Outcome:
Within six months, 'Nature's Embrace' saw a 45% increase in positive reviews and a 70% surge in social media engagement. The brand blossomed into a revered entity in the wellness industry.
Steering an E-commerce Startup through a Crisis
Background:
'GizmoHub', an e-commerce startup specializing in tech gadgets, was thrust into turmoil when a shipment mishap resulted in widespread customer grievances.
Strategy:
Egochi swiftly stepped in with crisis management, implementing damage control through public communication, customer outreach, and implementing improvements in shipping logistics.
Outcome:
The decisive action not only contained the crisis but turned it into a triumph. 'GizmoHub' experienced a 60% increase in customer satisfaction scores and reclaimed its positive image.
Client Testimonials
"Egochi's deft handling of our online reputation has been nothing short of transformative. Their strategic prowess and unwavering commitment breathed new life into our brand. Our journey with Egochi has been marked by milestones we didn't dare dream were possible."
Nature's Embrace CEO
"In the eye of the storm, Egochi was our anchor. Their rapid response and comprehensive strategy turned a crisis into a catalyst for growth. GizmoHub's digital rebirth is a credit to Egochi's masterful Online Reputation Management."
GizmoHub Founder
---
Egochi Online Reputation Management Awards
At Egochi, our commitment to stellar Online Reputation Management has not gone unnoticed. Our prowess and innovation have been acknowledged with an array of prestigious awards and accolades.
Egochi Named 2023 Top Reputation Management Company by Clutch
Egochi, a premier digital marketing agency, has been honored by Clutch as a 2023 top company in multiple categories, including:
Digital Marketing Agency
SEO Agency
PPC Agency
Social Media Agency
Web Design Agency
The selection criteria are based on a comprehensive evaluation that considers market presence, client feedback, and other key factors. Egochi boasts an impressive 5.0 rating on Clutch. Read the reviews.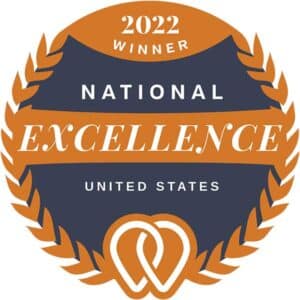 Egochi Named 2022 National Excellence Award Winner by UpCity
UpCity, a trusted online platform for B2B services, recognizes Egochi as a 2022 National Excellence Award winner. The award is determined by the UpCity Recommendability Rating, an algorithm that evaluates a provider's credibility, reputation, and recommendability through various digital signals.
"Egochi Internet Marketing is a shining example of excellence in our marketplace," states Dan Olson, CEO of UpCity. "We are proud to award them with a National Excellence Award."
Egochi has a 5.0 rating on UpCity. Check out the reviews.

Talk to an ORM Expert